Welcome to the True Grace Ministries website! We are advocates of the absolute right to the freedom of religion and one resource among many for disciples who seek ever more intimate communion with Christ and within the household of faith, and who seek to engage the world in loving witness as ambassadors of God's Kingdom (Heb. 3: 1-6; John 17:20-26; Col. 1:23,13).
True Grace Ministries was established on September 22, 1995 as a non/inter-denominational Christian ministry and was chartered on October 15, 1997 by Saint Luke Evangelical Christian Ministries. While individuals associated with us may believe and cherish certain doctrines, we first and foremost believe that the Love of Our Lord Jesus Christ is the greatest gift of God the Father and His Holy Spirit, and should be the primary message of Christians, taking precedence over all differences, whether they be theological, denominational, ideological, or physical in nature.
On our website you will find a variety of associated ministries and fellowships, inspirational, devotional, and Theological articles, sermons, a prayer chapel, etc.
We are a "ministry of reconciliation" (2 Cor. 5:18) and promote a Christ-centered, morally sound, Biblical Christianity: the faith and practice of the Apostles and the Early Disciples of Jesus Christ, our Lord and Savior.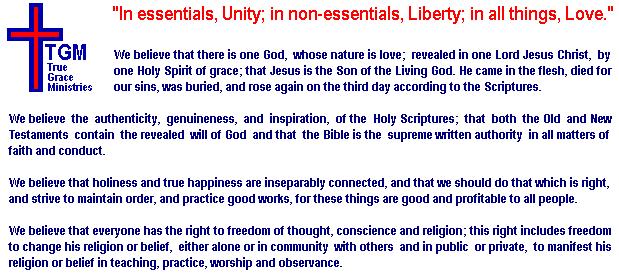 We believe that Christian character should be the test of fellowship among Christians and that in our daily lives and in our relationship with others we should maintain high ethical and moral values in all our dealings, personally and professionally. We should respect each person's difference in religious beliefs including the differences in doctrine, style and personality, only speak in edifying ways in regards to others, and treat all with whom we come into contact as we would like to be treated.
Although we individually, or as a group, may believe and cherish certain doctrines, the basis of our fellowship is life in the Christ of the Scriptures rather than light on the teaching of the Scriptures. Those who have part with Christ have part with us. Because our communion is one of life and love more than one of doctrine and opinion, we seek to show that the oneness in the life of God through Jesus Christ is a stronger bond than that of being one of us - whether theologically, organizationally or denominationally.
We believe it more scriptural to reflect a heart of love ready to find a covering for faults, than to constantly look for that with which we may disagree. We will then be known more by what we witness for than by what we witness against.
Following these principles, there can be "Unity in Diversity" and "Diversity in Unity." This is the essence of true Biblical Christianity, based upon the freedom that is in Christ, as it was instituted in the very beginning.
More about these principles can be found in the following articles:
If you are in agreement with the above principles, and wish to fellowship with others who are also in agreement, we invite you to become a registered member of True Grace Ministries by joining our online non-denominational fellowship.
We also invite you to visit our online library where you will find sections of reference materials concerning differing views of various doctrines for study and comparison with other views.
Our Background and Associations
For more on our Associations, Click Here.
Associated with True Grace Ministries you will find different ministries, fellowships, and discussion groups focused on specific topics and needs. Some of these are listed below:
If you have a website and are of the Christian Universalist Faith,
we invite you to join the Christian Universalist Webring.
Click on the "JOIN" Button below.